Our workshop presentation
Unique and beautiful artistry: Only at La Petite École du Rang!
Located in Tewkesbury, only a few miles away from Quebec City and right next to the Jacques-Cartier river lies the special workshop of La Petite École du Rang, where magic happens! Here, you will feel the power of art and culture as both artists, Lucie and Yvon, will show you their passion for nature through pottery and cooking.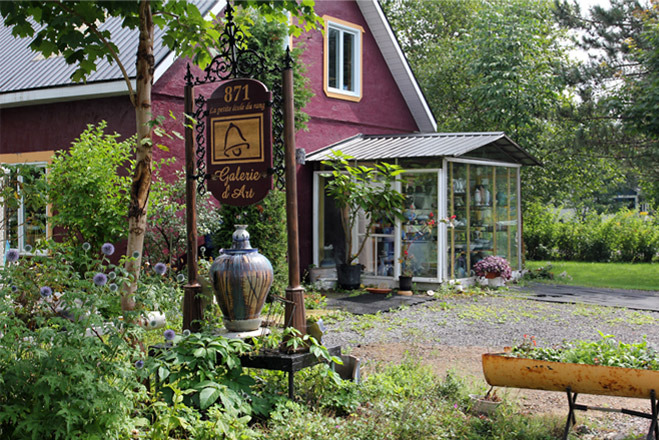 A workshop rooted in a rich and colourful environment!
Once a small neighbourhood school, Lucie and Yvon's house is now a wonderful residence with a fully functional art workshop. Having completed the renovations in 1987, Lucie chose to invest in her passion and transformed the workshop into a place of freshness and creativity, giving birth to La Petite École du Rang. After years of hard work and dedication, Lucie and Yvon's dream becomes a reality.
La petite école de rang at the heart of Quebec city's arts and crafts' industry!
Trained both in France and in the province of Quebec, Lucie Arseno and Yvon Leclerd have become specialists in the art of enamelling and glazing, rendering their artwork unique and extremely beautiful. They are among the very rare artists in the region of Quebec to use these particular techniques and have, as a result, been recognised as creators of original and sophisticated products that help share and transmit Quebec's up and coming art industry.
When one's workshop becomes an open and unconvetional museum…
Visiting Lucie and Yvon's workshop will introduce you to many discoveries, both educative and enchanting. The charming rustic environment will help you disconnect from your hectic everyday life and enjoy a real day of outdoors activities. Do not surprise yourself by their genuine kindness and they might invite you indoors for a cup of tea or coffee. This of course adds to the charm of this Tewkesbury workshop and truly makes your trip worthwhile.